admin | Feb 24, 2010 | Comments 0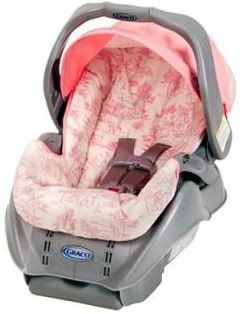 Graco Snugride Infant Car Seat
Weight of Seat: 7.5lbs without base, 12.5lbs with base
Dimensions: 24.2 H x 17.5W x 26.7D"
Baby Weight: 5-22lbs and 29inches
Colors Available: green, blue, black, brown, cream, grey, light green, orange, pink, red, tan
Safety Features: 5-point harness, EPS, energy absorbing foam, crash-tested to meet U.S. safety standards
Front or Rear Facing: rear only
Part of stroller system?: yes. Compatible with most Graco strollers.
Extras: stay-in car base, removable infant head support, LATCH equipped
The light weight – only 7.5lbs - of the Graco Snugride makes it an attractive option to parents of newborns, who often carry their babies in their car seats or put their car seats in their shopping cart when they go to the grocery store or the mall. The stay-in-car base makes getting baby into and out of the car very easy, especially when he is sleeping and you don't want to wake him up! In addition, Graco sells extra bases for the Snugride (about $41.99) so you can very easily switch the car seat from car to car without the hassle of reinstallation.
Some parents have found that the depth of this seat means the front driver's or passenger's seats must be pushed forward quite far. This problem seems to be resolved in most cases by putting the Snugride in the middle back seat - this is also the safest position, but a bit harder for getting the seat in and out of the car. Cars that seem to fit the Snugride well are the Honda Accord, Chevy Cobalt, Nissan Xterra; cars that have fitting problems with the Snugride include the VW Jetta Wagon, VW Jetta, Toyota 4 runner, Durango. The best thing to do would be to measure the distance from the back of the back seat to the back of the front seats, and compare this measurement to the depth of the Snugride (26.7"). Some vehicles that seem "large" do not accommodate this seat because of this particular measurement.
The wide variety of color schemes and patterns that the Snugride is available in attract many parents, especially some who want to have a complete matching travel system: the Snugride will fit onto almost any Graco car seat stroller base, and matching ones are available.
The Snugride is only good until 22lbs (which some big babies reach by 4-6 months!), so if you think you have a big baby, you will probably be better off with the Graco My Ride 65 Convertible, which allows baby to be rear facing until 40lbs. For the majority of babies though this is a good first seat, which will allow you to carry them around with ease, without disturbing any precious moments when baby is sleeping!
Filed Under: Car Seats
About the Author:
Comments (0)